17 Best Holiday Team Building Activities
Toronto/GTA, ON – 2023
As we officially enter Spooky Season, we can all admit there is nothing quite as spooky as a boring office team building holiday party.
The pandemic changed the way we work, and has opened up new opportunities for virtual and hybrid workspaces, and get-togethers alike. With only a few weeks left to book the perfect holiday soirée, we hope these suggestions of both virtual and in person team building holiday events can help you get your colleagues laughing all the way to the next holiday Season.
Check out this comprehensive list of the best holiday team building events in Toronto and the surrounding areas for how to keep your team entertained this winter.
Rockoly Team Building (Cocktail making, Cooking Class or Wine Tasting)
Whether your team prefers in-office bonding, or staying in their sweats at home, Rockoly offers a variety of both virtual and in-person team building events that are sure to keep everyone at your office engaged all evening long.
With a choice between in-person or holiday inspired virtual cooking workshops, wine tastings and much more, you customize the perfect office party for you and your colleagues.
Paint Cabin
A fantastic holiday themed event for the more creative office groups is a private holiday party with Paint Cabin Toronto. Giving you another opportunity to choose either in-person or virtual, Paint Cabin lets you choose the event activity and pairs it with drinks, snacks and music for an evening sure to get your creative holiday juices flowing.
The company offers door-to-door shipping for virtual events or private party rooms and event spaces for rent depending on the size of your group. This activity is sure to inspire your colleagues and get the office buzzing.
Indoor Ice Skating
If you're looking for something a little more nostalgic, dig out those old blades from the garage and strap em' on for an evening on the ice.
Rinx Toronto offers corporate event bookings year round and can tailor the space to your needs. Bring out a little healthy competition this holiday season and see who's still got their moves!
Quiz Coconut Holiday Team Building Event
We can't list this many great team building options without a little shameless self promotion. Check out Quiz Coconut for the perfect holiday event for you and your colleagues.
Whether you choose in office, virtual or hosting at a local venue, our team can curate the perfect Holiday themed Trivia Night for teams of any size. We offer customizable content, interactive challenges and classic trivia questions that will be sure to keep your spirits bright this holiday Season.
Book now to ensure you get the best possible time slot this season!
Corporate Team Building – Volunteering with Habitat For Humanity
A classic way to get everyone into the holiday spirit is giving back. Habitat for Humanity offers multiple locations across the GTA for you and your team to get your hands on helping others this year.
From neighborhood revitalization, building homes for the less fortunate and assisting with community and corporate partnerships, you're sure to find something to get everyone involved in.
To see what corporate team building opportunities are set to come available over the coming months, contact their team today!
The Rec Room
Bring out the kid in your colleagues with this great interactive option. Let everyone explore and play at their own speed, or organize a team building tournament with the Rec Room.
Offering multiple locations, loads of add-ons and options for food and drink, this one stop shop is all you need to make sure everyone at your holiday party has a night they won't forget.
Distillery Winter Village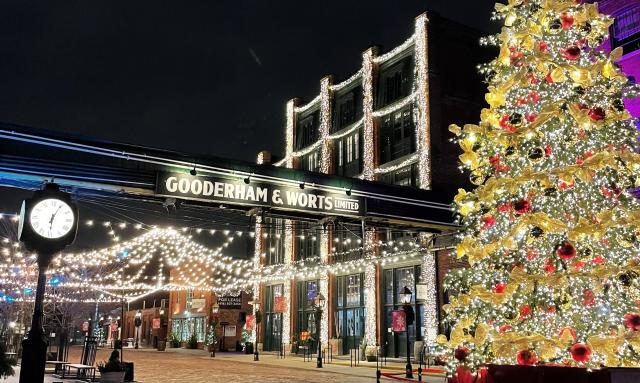 Every year, thousands of people flock to Toronto's Distillery District to marvel at the spectacular holiday light displays, festive music and comforting seasonal eats.
Book your tickets, load up the team and spend and evening walking around this Historic area of Toronto sure to please even the scrooge-iest of your colleagues. The holiday event is open from November 17th to December 31st, 2022.
Considering your next team event? Quiz Coconut can help!
Barchef Team Building Event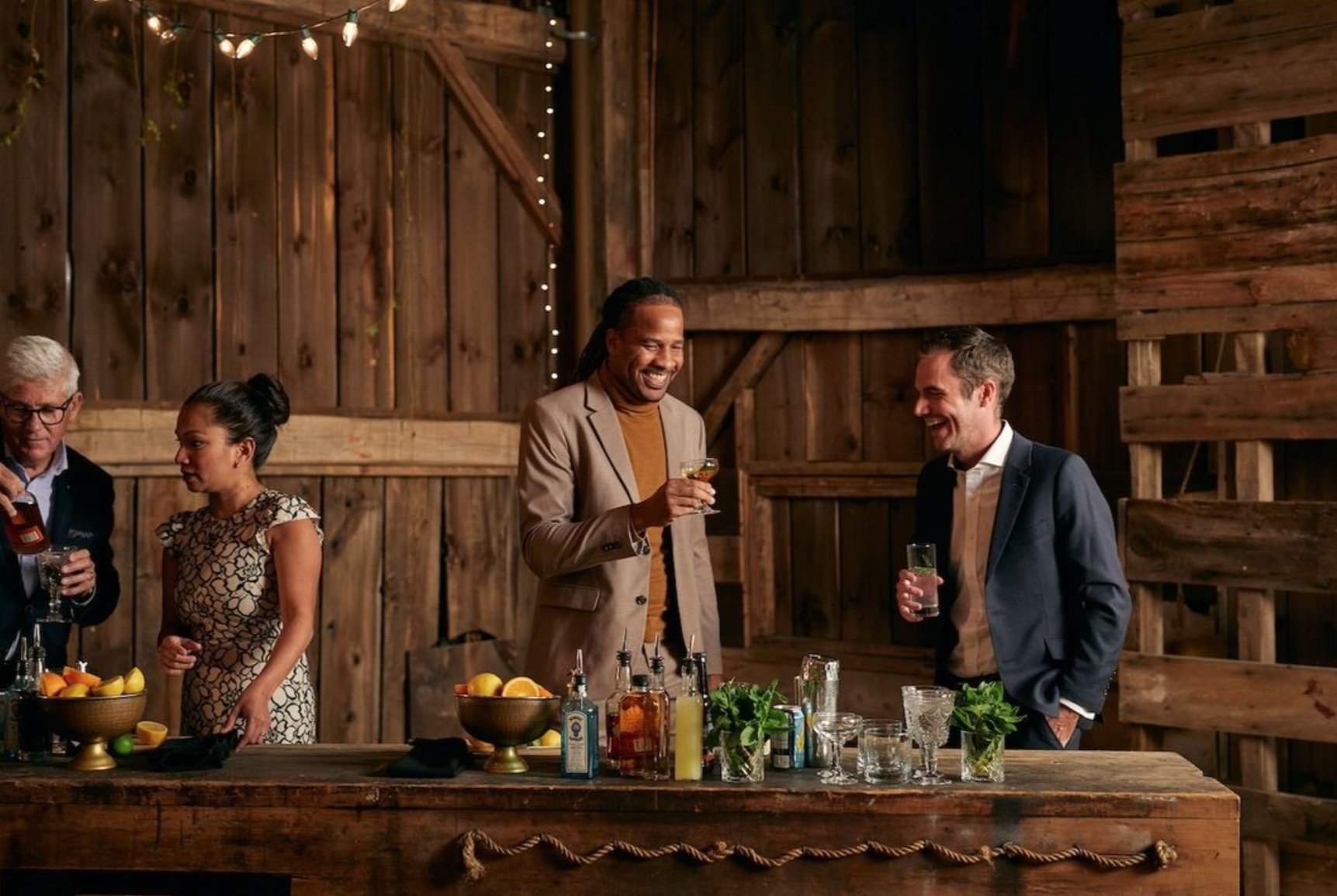 Spice up your team building event with a Barchef cocktail making workshop, or for the brave, a cocktail making competition. Offered both virtually and in-person, challenge your colleagues to a healthy (and delicious) rivalry, with skills you can bring home to the family for your holiday dinner this year.
Looking for something a little more laid back? Barchef also offers cocktail catering or in-house private events for you to 'sip' back and relax with your team.
Pursuit Obstacle Course
Strap on those sneakers and gather the crowd for an unforgettable night at Pursuit Obstacle Course located just outside of the city in Etobicoke, ON.
Offering various obstacles for team members of all speeds, and a supersized adult ball bit for those in the office looking for something more low-key, Pursuit is a sure way to work up an appetite and burn off some holiday stress.
Blue Mountain Team Building Retreat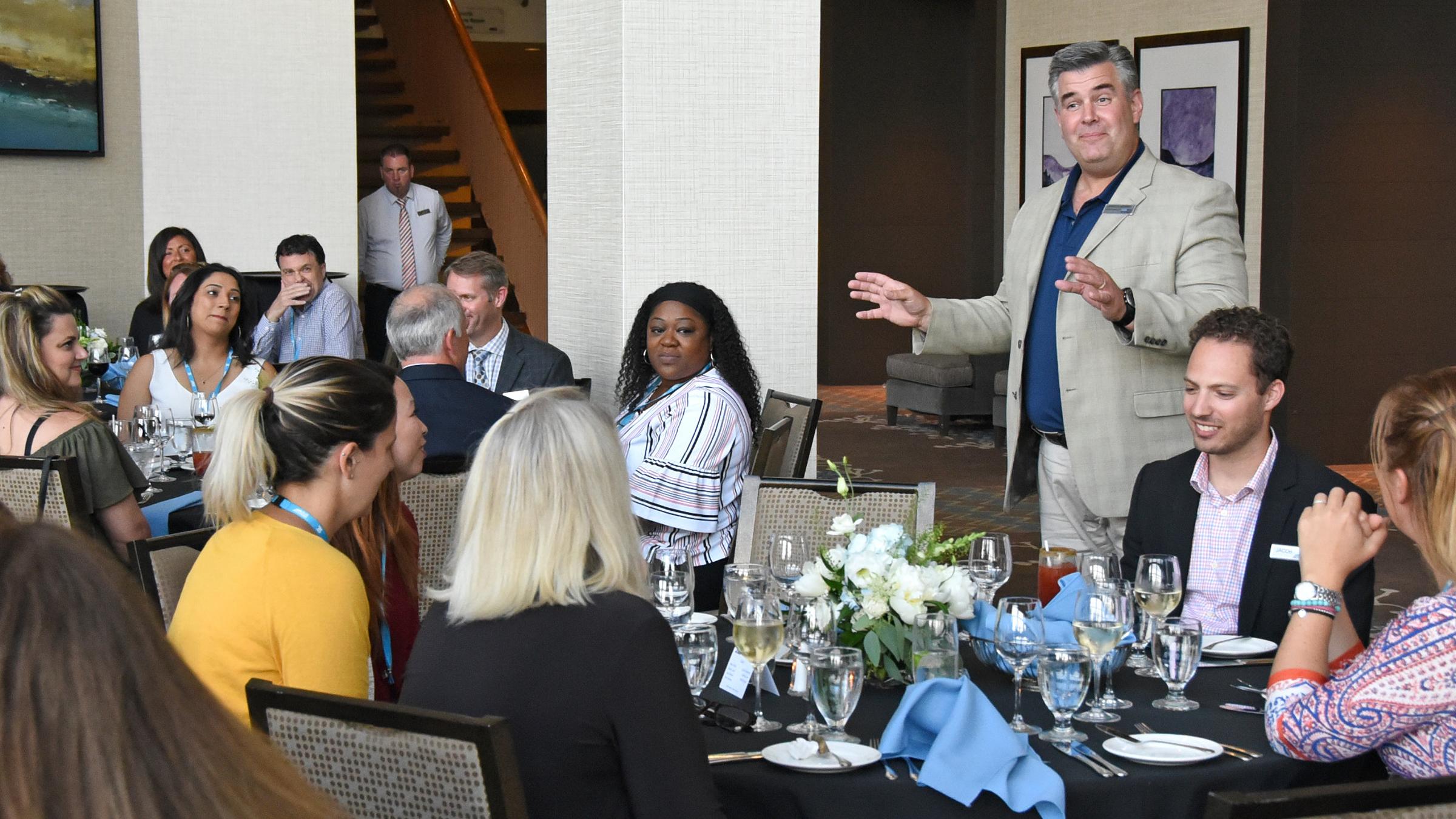 After two years of virtual get togethers or limited numbers of in person people, maybe your idea for the perfect team building holiday event is something truly out of office.
Just under 2 hours from Toronto, book a Team Building Retreat with Blue Mountain during the most magical time of the year.
Enjoy the beautiful Holiday décor, Blue Mountain Village, great food and drinks all while spending some time focusing on productivity, office communication and structured instructor-led team building with included keynote presentations and team development events.
Casa Loma Christmas
Nestled in the heart of Toronto, book your holiday team gathering this season at Casa Loma. Throughout the month of December, you can experience the wonders of the holiday season with gorgeous light displays and breathtaking architecture.
With options to rent one of a kind rooms, including the Grand Hall, you can host your meeting, meal and enjoy the spirit of the season at this historical one stop shop. Additionally, the purchase of each ticket includes a donation to the CHUM Christmas Wish foundation, so you can give back while celebrating with your team this year.
Winterfest at Canada's Wonderland
Located just a short drive outside of the city in Vaughn, ON, travel to this magical Holiday experience at Canada's Wonderland.
Immerse yourself in the exceptional light displays, holiday themed events, treats and merchandise to bring out the child in your colleagues, and keep everyone's spirits bright all evening long.
With availability from mid November through the end of December, this festive team building idea allows flexibility for whenever you're looking to celebrate.
Polar Winter Festival
Bundle up and head on down to Exhibition Place to experience some true holiday magic at the Polar Winter Festival with your team. Indulge in cheery cocktails, festive food and even grab a selfie with Santa during this unique team building activity.
Open for a full month from November 25th to December 26th, you're sure to find something for everyone to enjoy at this all-ages holiday experience.
Miracle on Bloor
Everyone knows the best holiday parties include a steady stream of Christmas cheer(s), so why not host your team's get-together at Miracle on Bloor. This Christmas themed pop-up bar is loaded with the best and brightest holiday décor, festive food and cocktails to keep even the office scrooge holly, jolly and bright!
Stay tuned to the website for opening dates and time for the 2023 season!
Team Skating at Nathan Philips Square
Celebrate the season with one of Toronto's best known winter events at Nathan Philips Square. Strap on your old skates, or rent them upon arrival and gather the team for some nostalgic outdoor ice skating in the heart of the city!
Keep your eye on the opening dates for the 2023 season, bundle up and show off those moves.
Holiday Drinks at The Thirsty Elf
Hosted at the prestigious Fairmont Royal York, throw on your ugliest Christmas sweater and indulge in some festive food and drink at the Thirsty Elf.
This Holiday pop-up runs yearly from November 16th – December 17th. Reservations aren't taken in advance so arrive early and stay late for some serious festive fun.
Team Building Escape Show
Stuck organizing the perfect event for a more energetic team? Check out this incredibly interactive, challenging Team Building event with the Toronto Escape Show.
Offering both indoor and outdoor events, based on the weather and your team's willingness to face the elements, you and your team will become secret agents tasked with solving a mystery that threatens the city.
With interactive actors located along the way, you'll be surprised to see just how immersive this unique experience is. Challenge your colleagues to a night of fun and true team building on your quest to save the city!
We hope this list of inclusive holiday events helps you to plan the most spectacular holiday team building event for the 2023 season.
Do you have any additional amazing suggestions? Write to us at cassidy@quizcoconut.ca.
Happy Holidays from the team at Quiz Coconut!